26.04.2017
Algol: Providing value since 1894
Algol sees their role in the internationalisation of Finland's economy as more important than ever.
To build high you need sturdy foundations, and few Finnish companies have stronger foundations than Algol. In 1894 they began life by importing industrial goods needed by Finnish businesses. They do the same thing today, and are even owned by the same family.
Magnus and Alexander Bargum are father and son, representing the third and fourth generations of Algol owners. Magnus is on the board of directors while Alexander is Group CEO. Algol has operations in eleven countries and is a distribution and service specialist in the chemical, technical and healthcare sectors.
It is a different business from when it was born, but the core values remain the same. Those foundations laid when Finland was still a Russian Grand Duchy are allowing Algol to build even higher in the 21st Century.
Core values hold true
Finland is celebrating its 100th year of independence in 2017, and Algol has been part of the great changes which took the country from an agricultural backwater to a top-tier industrial nation. Since their foundation Algol has participated in building an international trade network to help Finland industrialise. Today the economic challenge is different, but the philosophy still holds true.
"Finland is highly dependent on imported raw materials and components in order for its own export industry to operate," says Alexander. "The more we turn into a country of specialised manufacturing, the greater the role of value-adding importers and distributors. Today our role is not a link in the logistics chain, but a true partner in a global ecosystem of businesses."
Alexander says one of their missions is to enhance the competitiveness of their industrial customers by providing not only high-quality products but also a wide range of service solutions.
"Being active in the healthcare sector is another essential part of our business," he continues. "Whether we help other businesses, doctors and nurses, or individual patients, we do it with the same commitment to the well-being of our customer."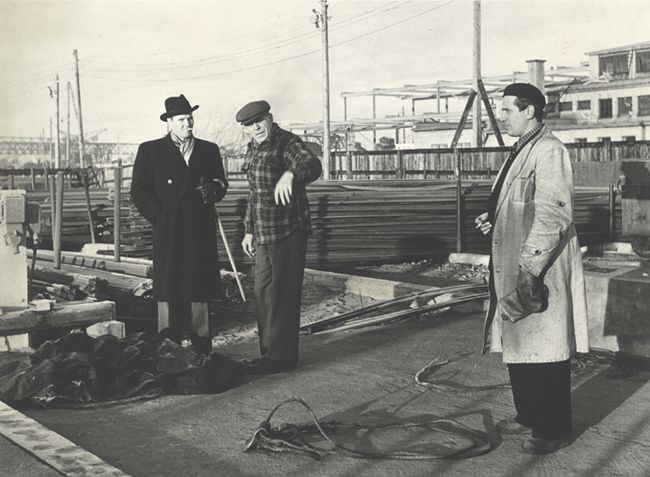 Algol's warehouse in Jätkäsaari, Helsinki, in November 1952
Benefits of openness
Algol's founder, Albert Goldbeck-Löwe, was a German who saw the benefits of trade for Finland. Throughout their history the company has championed the benefits of open borders and free trade. Algol began their international expansion in the early 1990s and it still continues today, based on a long-term multi-market approach.
"That is what our business partners expect, and for us it has been of great value both in terms of growth and diversification," says Magnus.
"That is one nice thing about being a family company," Alexander explains. "Sometimes listed corporations are accused of focusing too much on the short term and taking too long to make decisions. A family company is able to make decisions quickly but has a long-term view."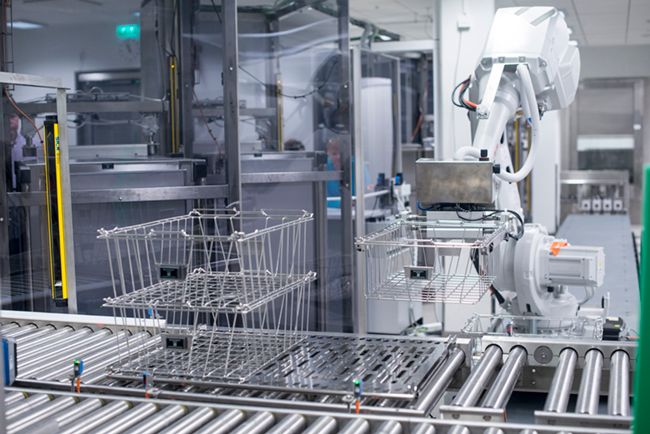 The next 100 years
Algol has been part of Finland's first 100 years of independence and are looking forward to the next century. They believe their core values of accountability, collaboration and continuous development will serve them well going forward.
"Change is happening so quickly, it is impossible to tell what the world will look like even in one year," says Magnus. "But the heritage of Algol gives us a solid base and we have been through major disruptions before. Digitalisation is changing how we do business, but even 100 years from now companies will need local service just like they do today."
"I like to think of us as part of the solution going forward," concludes Alexander. "Our brand promise is 'Your supplier of value' because that is exactly what we do. In the future the world will still need an entrepreneurial spirit, confidence and belief in the future like we have at Algol – and which are essential for any business. We look forward to serving our customers' needs for the next 100 years."
Text: David J. Cord
……………
ABOUT ALGOL
Business areas: Service, wholesale and distribution of chemicals, raw materials, technology and health care
Group companies: Algol Chemicals, Algol Technics, Algol Trehab, Algol Diagnostics, Histolab Products, Suomen Unipol
Sales: 166 MEUR (est. 2016)
EBITDA: 6.3 MEUR (est. 2016)
Employees: ca. 450