26.04.2017
Lillbacka Powerco, a family business, is bringing crimping technology into the digital age
Lillbacka Powerco Oy from Härmä, Finland, well known for its crimping technology and the manufacturing of metalworking machines, is bringing traditional engineering technology up to date by digitalizing technical solutions and practices.
Lillbacka Powerco Oy, which was founded by Industrial Counselor Jorma Lillbacka in 1969, is currently the world's leading manufacturer of hydraulic hose crimping machines. The company is now aiming at digitalizing its activities and technology, and integrating them into the broader manufacturing processes.
"Jorma Lillbacka's motto 'the impossible we do immediately, the insurmountable takes some time' carries the company even today."
"This way, we are able to offer our customers new advantages through an optimized manufacturing process, as well as even better quality assurance, and cost savings," says Powerco's Sales and Marketing director Markus Kihlström. 
Behind the family-business' success is a focus on customers, uncompromising quality, product development, and the strong Finn-Power brand. At the moment, product development is focussed on electronic control systems and device integration.
"Along with digitalization, you can start managing product information, as well as manufacturing and quality information in the control of the crimping machine. This collected data is essential. When machines are integrated with broader systems, as they will be in the future, you can control and monitor them over the web. With the new remote control opportunities, customers can monitor the quality and efficiency of their production even better, while also securing product information documentation," reports Powerco's Business Manager Mika Luopajärvi. 
More than 90% of the company's production is exported. According to Kihlström and Luopajärvi, this is due to Jorma Lillbacka's open-mindedness and understanding of customer needs. 
The family-owned company has made courageous decisions and acted experimentally from the beginning. Jorma's describes it as a mind-set of: "The impossible we do immediately, the insurmountable takes some time," which still applies today.
Text: Eila Lokka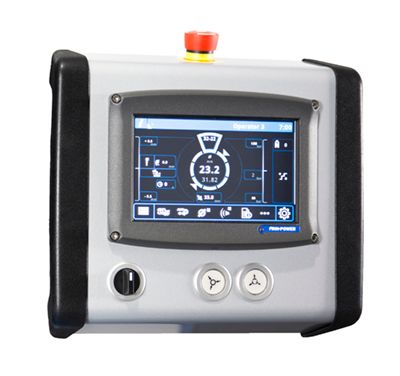 ……………
Lillbacka Powerco Oy manufactures hose crimping machines, hose cutters and skiving machines for service and serial manufacturing. Approximately 95% of Powerco's production is exported to more than 60 countries in North and South America, Europe, and Asia.
Contact information: Markus Kihlström, Sales and Marketing Director, tel. 040 558 3245