29.09.2017
Saving costs and energy building by building
The focus on reducing energy and costs is rapidly rising around the world. Granlund can help companies become leaders in building energy efficiency.
Nordic experience is useful when it comes to managing buildings and Granlund has decades of experience in helping organisations to efficiently manage building maintenance as well as to optimise energy consumption. Labour and energy costs are rising around the globe which is not only costly but also harmful to the environment.
Two-thirds of the costs of a building are operational and the majority of these are staff wages, maintenance and energy costs. The Granlund Manager software combines energy efficiency with the maintenance of a building in a unique way. It's able to help owners reduce the operational and energy costs of a building – for example by optimising the use of heating and cooling systems.
The system not only analyses and optimises energy usage and real-time performance, but it also helps to visualise energy usage, maintenance reaction times, carbon footprints and indoor air conditions, thus informs about the well-being of a building and it's users. The software also includes budgeting and approval procedures for future cost planning for buildings. The whole purpose of the system is to save money and energy.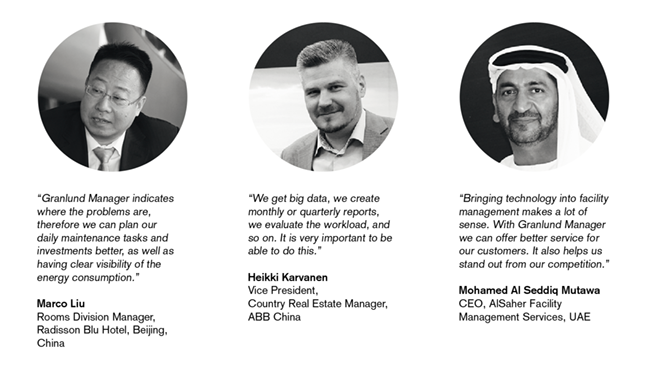 Granlund Group's international offices: 
Main Office
Helsinki, Finland
Granlund Middle East
Dubai, United Arab Emirates
Granlund China
Shanghai, China
Granlund in Scandinavia
Malmö, Sweden